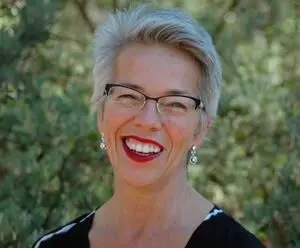 In 2001 I decided to pursue an adjunct professional specialization in addition to already being a Licensed Marriage and Family therapist in the State of California. Why? Because I recognized that I was already a kind of "natural coach" as a psychotherapist. My clients would often tell me that I took a much more active role as a psychotherapist than what they were expecting and/or used to with other therapists they had worked with. They felt they "moved forward" much more quickly than they had anticipated.
And so, I attended the College of Executive Coaching and became a Certified Master Personal and Executive Coach in 2003. Later I became Board Certified as such in 2012.
Personally, I adore my husband of 25+ years. I live in the beautiful Coachella Valley. I enjoy hiking, camping, hanging out with our therapy dog, Lucy, and being on a continual path towards greater happiness, personal growth and living the "good life".
And… I consider myself incredibly fortunate. I love my work! It is so gratifying to be able to assist people in meeting their desire for a better and better life. It can be done! It can be you!
If you would like to view Petra's resume, click on the following link: https://documentcloud.adobe.co...
If you would like to know more about me as a Licensed Marriage and Family Therapist, please go to www.desertviewhealth.com